Plateosaurus
Diet
Diet:
Herbivore
Classification
Classification:
Terrestrial
Cost
Cost:
200 DNA
Health
Starting:
Elder:
250
1500
Damage
Starting:
Elder:
20
120
Oxygen and Moistness
Oxygen:
10
Moistness:
None
Description
Description:
TBA
Height
Height:
10 FT
Length
Length:
25 FT
Weight
Weight:
2000 LBS
Plateosaurus was a Prosauropod from the Late Triassic Period 214-204 MYA of Europe. In-Game it has a blueish-grayish colour and black claws. Many people associate it with its very obnoxious and sometimes painful to listen to roars.
In game it is also a Herbivore though scientists now think that all early sauropods were omnivores and some were even Carnivores.
Plateosaurus was a large prosauropod native to most of the supercontinent. Pangaea during the late Triassic Period. It appears that it didn't have feathers which is so far accurate due to sicentists lacking any fossils of any sauropod which display feathers. Though it is possible that it had them along with most if not all other sauropods.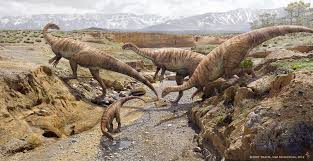 Ad blocker interference detected!
Wikia is a free-to-use site that makes money from advertising. We have a modified experience for viewers using ad blockers

Wikia is not accessible if you've made further modifications. Remove the custom ad blocker rule(s) and the page will load as expected.