Stegoceras
Diet
Diet:
Herbivore
Classification
Classification:
Terrestrial
Cost
Cost:
50 DNA
Health
Starting:
Elder:
160
960
Damage
Starting:
Elder:
18
108
Oxygen and Moistness
Oxygen:
10
Moistness:
None
Description
Description:
The Stegoceras lived during the Late Cretaceous Period.
Height
Height:
3 FT
Length
Length:
8 FT
Weight
Weight:
100 LBS
Stegoceras is a small pachycephalosaur in Dinosaur Simulator
It is orange with a tan plate on its head representing the dome like skull of pachycephalosaurids. It has small grey hands and feet, and a really big nose for it's size.
Although the Stegoceras looks like an omnivore, it is in fact a herbivore, and related to the Pachycephalosaurus.
The Stegoceras is currently the one of the smallest animals in the game and the 1st one being Arizonasaurus.
Stegoceras is a bipedal, small North American pachycephalosaurid which lived during the Late Cretaceous Period 77.5-74 MYA in the Kirtland Formation and the Dinosaur Park Formation. It is currently unknown if this or any other pachycephalosaur for that matter had feathers. However by looking at some of the closest feathered relatives to pachycephalosaurians like Psittacosaurus or Kulindadromeus we can say that pachycephalosaurians have at least some chance of possessing feathers. Though we need more evidence to support that.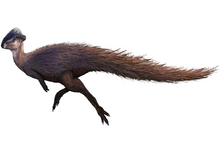 Ad blocker interference detected!
Wikia is a free-to-use site that makes money from advertising. We have a modified experience for viewers using ad blockers

Wikia is not accessible if you've made further modifications. Remove the custom ad blocker rule(s) and the page will load as expected.